Water Filter Housing Supplies
Water Filter Housing Supplies
Sometimes all you need for your household repairs and maintenance are the small-dollar supplies. FilterDirect hasn't overlooked the little details. We have all the filters and water filter housing supplies you need, no matter what your budget. We want to be your one-stop shop for all your household filtering and pumping functions.
Water on Demand Pumps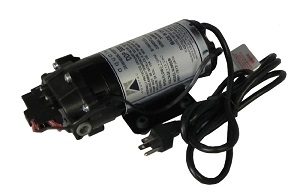 The reverse osmosis home systems are designed to fit under the sink and will provide multiple outputs to the sink, refrigerator and ice maker to make your life easier.
If your kitchen can't accommodate an under-the-sink RO System, then you can put the unit in your basement and run a line to the outputs. When you are using multiple outputs or using long tubing for the water, you need to use water on demand pumps with the RO water system to provide water pressure from the storage tank. This will help deliver the right water pressure to your faucet, refrigerator or ice maker. It is designed to automatically turn on and off with the output faucets to make your life easier.
Any-size Plastic Pipe Fittings
We're sure you'll find the major equipment and all the minor odds and ends necessary to complete any project. Everything from the top-of-the-line commercial water on demand pumps right down to replacement parts is carried here. We know that even those seemingly small items can bring a project to a screeching halt if you don't have them, or don't have the right ones. This includes plastic pipe fittings of ever size and shape. We also carry both quick-connect fittings and compression type plastic fittings to suit your project. If you're unsure which part, cartridge, water filter housing or other replacement piece you need, ask for help. We'll be happy to assist, no matter how little the request.